Who is Dr Clarke Dinar?
Dr Clarke dinar is the in house guru from Dinar Recaps.  The information is false, misleading, but interesting, so people don't bother to question it.
Since Dinar Recaps controls their own site and they moderate the comments on their own website, it's pretty easy for them to block anything negative about their in house guru.
I will be discussing Dr Clarke Dinar Guru, who some people find to be a really good dinar guru. My Ladies joined the call. You guys who want a voice, you can have one, just be here at this video link and bring the popcorn.
My Ladies / Dr Clarke Dinar Guru Live Call And Chat On Dinares
Here is some proof that this man, Kenneth Siegel owns DinarRecaps.com: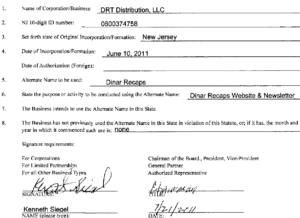 This is what comes up on the bottom of the search results of Google when looking for the dinar guru Dr. Clarke:
mnt goat dinar – this comes up probably because Mnt Goat or Mountain Goat is always posting on just recaps, even though he used to post on Peoples Talk Radio.
ken siegel dinar – again, Kenneth Siegel, the owner of the recaps website.
ken siegel dinar recaps – I don't think I even need to explain this one
dr. clarke dinar march 2016 – I have no idea why this date was so important as the fake doctor was not born until – January 9, 2016.
#wearethepeople
ken siegel goat
dinar recaps millionday
dinar chronicles blogspot
And here is proof: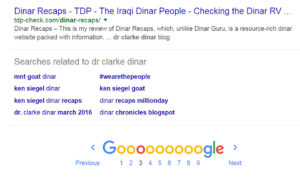 Discussions will be about the Iraqi Dinar (obviously) and that's dinares for you awesome people over in Puerto Rico. We will discuss the updates I have posted in the last few months as well as what Dr. Clarke has stated.
People will probably have questions about the dinar rv (revaluation) and I'll take your questions on the possibility of a revalue.
I'm going to be bringing up Dinar Daily ( and why I'm frequently on that site and why I think you should join.
I will go over the recent news coming out of Iraq.
We will discuss the Iraqi currency as an investment and my rate predictions for 2017.
I'll go over any dinar rumor you guys have, obviously debunking any lies you have heard (such as people have already cashed out).
We can discuss other gurus, and the other blog and forum websites.
Dinar Detectives will probably be bought up.
Any IQD news you guys have, bring it in, I'll go over it.
Dinar Guru

This was Dinar Guru Okie Oil Man on August 2nd discussing Obama's signing off on the revaluation of the Iraqi Dinar. Please take a listen to it, tell me HONESTLY